Directions
The Bushnell is located in Downtown Hartford at:
166 Capitol Avenue
Hartford, Connecticut 06106
Click here for directions or use the following:
From the North or South, take I-91 to Exit 29A (Capitol Area). Go halfway around the rotary, and bear right onto Elm Street. Take the first left onto West Street. Turn right onto Capitol Avenue and continue one block to The Bushnell.
From the East, take I-84 West to Exit 50 (Main Street). At the second light, turn left onto Main Street. At the tenth light, turn right onto Capitol Avenue. Continue three blocks to The Bushnell.
From the West, take I-84 East to Exit 48B (Capitol Avenue/Asylum Street). Bear right onto Capitol Avenue. At the light, turn left onto Capitol Avenue. Continue one block to The Bushnell.
Important Parking Changes
Attention All Bushnell Patrons:
Please note: Effective immediately, the UPPER PARKING LOT, adjacent to the State Office Building (165 Capitol Avenue, Hartford) is closed and NO LONGER available to patrons when parking for Bushnell events. Lower State lots with entrances off Capitol Avenue and Buckingham Street will continue to be available. Please see below for a more in-depth list of all parking opportunities.
Please plan ample time for parking and arrival to the theater. We apologize for any inconvenience.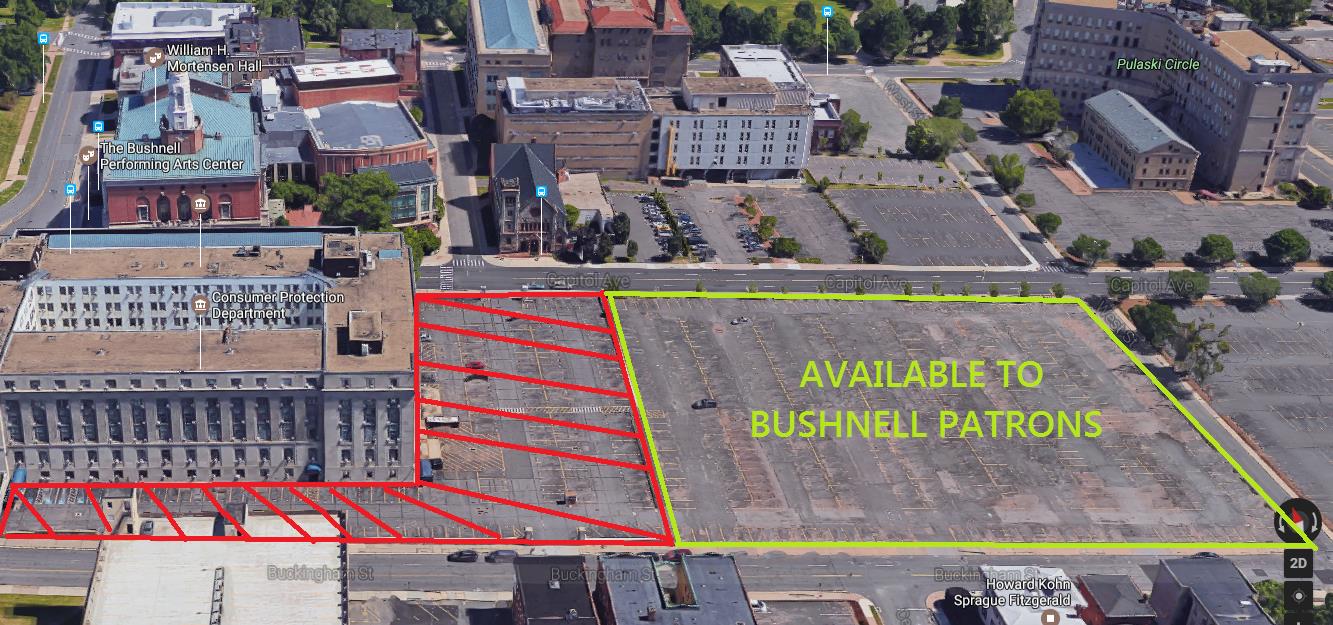 Parking
Weekend and Weekday Evening Parking
Secure parking is available in the State of Connecticut parking lots along Capitol Avenue. Note: The upper parking lot is NO longer available. For patrons displaying a valid accessible parking permit, there are a number of parking spaces available within the State of Connecticut Public Health Laboratory parking lot on Capitol Avenue. Please look for prominently displayed signage. Spaces are available on a first-come, first-served basis.
Valet Parking
Special Notice: Pursuant to City of Hartford Municipal Code Sec. 10-29 and per order of the Hartford Parking Authority, valet services can NO longer be provided from Trinity Street. Valet parking has been moved to Capitol Avenue. We apologize for any inconvenience this may cause.
Weekday Matinee Parking Information
Limited parking is available throughout the City during business hours. Patrons must provide ample time for parking and arrival to the theater.
Public parking options include, but are not limited to:
Off-Street Surface Lots - walking distance .1mi – 1mi
XL Center Parking Garage - walking distance .5mi
Connecticut Convention Center - walking distance .8mi
Union Train Station - walking distance .6 mi
For detailed parking locations throughout the City, please visit www.hartford.com/parking/
Public Transportation
Taxi Service
860.666.6666
CTfastrak & CTtransit
860.525.9181, www.cttransit.com
CTfastrak and CTtransit are great options for getting to downtown Hartford, including The Bushnell. CTfastrak is Connecticut's new bus rapid transit system with frequent service and free parking in many locations. CTtransit has routes that serve downtown from the entire greater Hartford region.
All routes are in Google Maps, so it's a great way to plan your trip! Click here to plan your trip, just enter your starting address and travel date/time for transit directions to the Bushnell.
Also, real time bus arrival information is available in the Hartford area to make your trip even easier, just download 'TransitApp' to your iOS or Android device and you'll have accurate arrival and departure times right in your hand!