WICKED in Hartford Cancelled
Because of concerns that we will not be able to gather in large numbers by the end of the summer, the national tour of WICKED will not play its scheduled dates in Hartford this September. The tour's long-range schedule will not allow it to play in Connecticut this year or next, so unfortunately we must cancel our planned run.
Hadestown Postponed
The Bushnell will reschedule its planned October 20 – 25, 2020 engagement of HADESTOWN. You will be notified of new dates when they are confirmed.
2020-21 Broadway Series
Join us for the 2020-21 Season at The Bushnell to experience the best of Broadway, right here in Hartford!
Packages for all 6 shows begin at only $234!
For a full list of price options, see our pricing scale.
Hadestown | TBD
Hamilton | December 15, 2020 - January 3, 2021
Pretty Woman: The Musical | February 2 - 7, 2021
What the Constitution Means to Me | March 9 - 14, 2021
My Fair Lady | April 27 - May 2, 2021
Mean Girls | June 1 - 6, 2021
The 2020-21 Broadway Series is co-sponsored by:


Become a NEW Broadway Subscriber
Ready to secure your seat for our full 2020-21 season? Click below to make a deposit today! Your $100 per seat deposit holds your place to be seated for our 2020-21, six-show Broadway series. We will contact you in the spring/summer at which point you will choose your package day and specific seats from our available inventory.

New Covid Ticketing Policies
Dear Friends,
These are challenging and unsettling weeks, and we hope the thought of gathering again with family and friends at a show (or seven) helps to sustain you and your family during this unprecedented time.
Happily, there is a future to look forward to, a community that will come together to celebrate the transformative and healing power of the performing arts. We hope our exciting 2020-21 Broadway season will energize and nurture your creative soul while you stay safe and healthy at home.
We appreciate that the current climate may create apprehension about making a year-long commitment today. We want to assure you that we're committed to making your return to Broadway at The Bushnell an experience you can trust:
While The Bushnell staff is working remotely, it is preferable for us to securely process your renewal by credit card rather than by check. If a credit card payment is possible, we appreciate you using one.
We hope you'll join us in our magnificent Mortensen Hall this September. We can't wait to welcome you to The Bushnell!
FAQs
I've already paid for the season. How do I get my money back now that Wicked has been cancelled?
If you paid for your subscription by credit card, you will be automatically refunded the value of your tickets. If you paid for your subscription with cash, check, or gift card, the value of your tickets will be applied to an account credit that can be used for another purchase or you can contact us for refund options. See ticket value by subscription package.
I've made a payment. How much do I owe now that Wicked has been cancelled?
I've made a deposit. How much will ticket prices change now that Wicked has been cancelled?
Will other shows in this season be cancelled?
We do not anticipate any other cancellations this season. If a show must cancel or postpone, we will work with you to refund or exchange your tickets.
Is the box office open?
We are open but unable to offer in-person service at our 166 Capitol Ave box office location at this time. For fastest service, please fill out our contact us form.
I'm renewing - when will my seat placements happen?
Thank you for joining us for another season! If you are a full-season subscriber, you will automatically retain your seats from last season. If you're unsure of your seats, they are listed on the invoice you'll receive in the mail.
I'm renewing, but want to change my seat location or the day I attend.
Please make a note with your request on your renewal, as indicated on your invoice. You can even include a separate letter in your envelope along with your payment. We read everything you send us! Seat changes are made a bit later in the process. We have to wait until we know who is committed to renewing and who is releasing their seats, so that we know what seats we have available to offer you. Even if you know you cannot renew your package as-is (due to a day of the week conflict, etc.) please include payment along with your seat change request and invoice. We will know from your notes you want to switch and will be in touch to talk about options for your new day/desired seating section. We thank you in advance for your patience as this process necessarily takes some time.
How do I become a subscriber?
We look forward to having you join us for the 2020-21 season! To secure your spot, you will need to make a $100 deposit per seat.
I already know I can't attend my subscription day for one of the 6 shows in my package. When can I exchange into a different performance of that same show?
Once you receive your full subscription packet in the mail, you can follow the instructions on the enclosed letter to return tickets to our box office for a single-show exchange.
How much does the full 6-show series package cost?
Packages start at $234 per ticket to lock in the same seat to all 6 shows in our coming season. Package prices differ by subscription day and seating locations - for a full list of price options, see our pricing scale. Please note that there is a $25.00 per-order fee, regardless of how many seats you purchase in your subscription.
I renewed my subscription online but want to request changes to my seats and/or day. How can I do that?
Seat and date changes cannot be made in the online renewal flow. However, when you renew online, you can follow up with your request one of these ways:
- 1) Mark your physical invoice with "PAID ONLINE ALREADY" and send it in with the changes you'd like to make, as indicated on the invoice form.
- 2) Send an email to subscriberexchange@bushnell.org with your first and last name, account number, phone number, that you've paid online already, and what changes you'd like for your 2020-21 subscription.
Note: We are currently not able to make changes at this point in the renewal process. We will contact you with available seating and day options in the spring/summer. We thank you in advance for your patience as this process necessarily takes some time.
For the best seating location:
Join The Bushnell's Broadway Circle
The Bushnell's Broadway Circle Ticket Holders (Broadway Series only) receive access to prime orchestra seats! Series package seats in the Broadway Circle are available to those Annual Fund members who give $750 per seat (at minimum). For more information on additional Annual Fund Member benefits, please click here.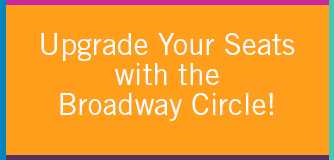 In addition to premier seating, additional benefits include:
Invitations to unique and exclusive events
Access to donor-reserved seats
Access to Horace Bushnell private dining suite
Series ticket seating upgrade priority
And more!
For more information on The Bushnell's Broadway Circle, click here.
To discuss seating availability, please contact Patrick Langevin at plangevin@bushnell.org.
Mini Subscriptions
Coming soon!
Mini Series packages will be available in late summer 2020.